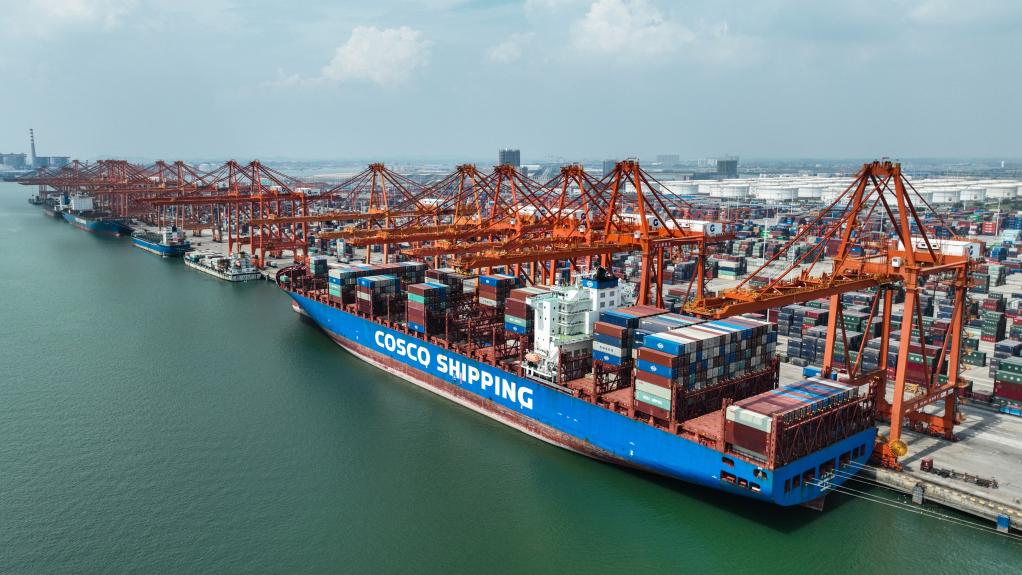 Aerial photo taken on Sept. 13, 2022 shows the Qinzhou Port in Qinzhou, south China's Guangxi Zhuang Autonomous Region. (Xinhua/Zhang Ailin)
Despite crises and challenges, peace and development, fairness and win-win cooperation will remain the common aspiration of people all over the world.
BEIJING, Jan. 6 (Xinhua) -- As changes unseen in a century are unfolding at a rapid pace, the world's seven major regions, namely the Asia-Pacific, North America, Europe, Eurasia, the Middle East, Latin America and Africa, will see a mix of tailwinds and headwinds in 2023.
The world is not yet a tranquil place and humanity can't pretend that all problems will go away in the new year. Yet despite crises and challenges, peace and development, fairness and win-win cooperation will remain the common aspiration of people all over the world.
A tough year has gone by. A new start is in front of the world.
ASIA-PACIFIC: SEEKING COOPERATION WHILE RESISTING INTERFERENCE
In 2023, the Asia-Pacific will continue to enjoy a relatively stable security situation, robust economic growth and strong desire for cooperation. At the same time, certain countries' persistent interference to other countries' internal affairs will pose a grave challenge to regional peace and stability.
Over the past year, the United States has continued to advance the so-called "Indo-Pacific strategy" in the region. U.S. President Joe Biden's administration has gathered allies and some regional countries to strengthen the "small circle" against China.
In 2023, only by strengthening the will to maintain regional stability and deepening mutual trust can the Asia-Pacific region cement the foundation of regional security and drive the global recovery forwards.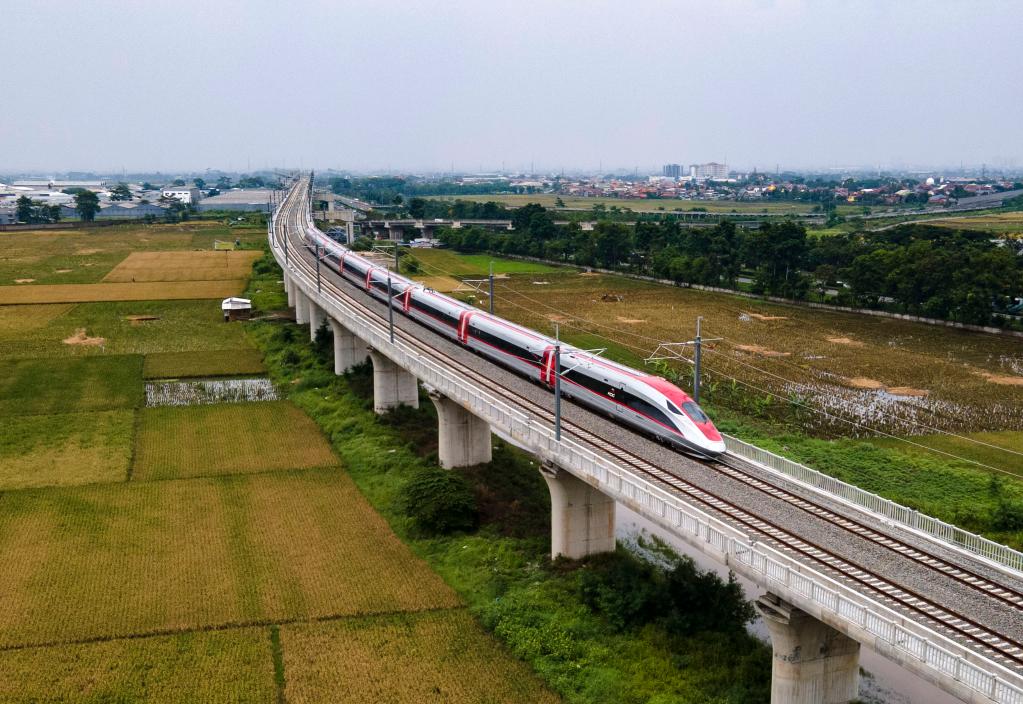 This aerial photo taken on Nov. 9, 2022 shows electric multiple units being tested for hot-running on the Jakarta-Bandung High-Speed Railway trial section in Bandung, Indonesia. (Photo by Jiao Hongtao/Xinhua)
In 2023, which marks the 10th anniversary of the Belt and Road Initiative, China is considering hosting the third Belt and Road Forum for International Cooperation. India takes over the rotating presidency of the Shanghai Cooperation Organization and the Group of 20. Indonesia holds the rotating chair of ASEAN ... Asia will once again capture spotlight for promoting global governance. The Asian-Pacific countries have full confidence in the "China engine," regional development and future cooperation.
EUROPE: MULTIPLE TESTS AHEAD
2023 will be a year full of uncertainties for Europe. Since the start of the Ukraine crisis, the European Union (EU) has shown "solidarity" with the United States out of security concerns and has imposed nine rounds of sanctions on Russia, which have backfired.
In 2023, the wisdom of Europe will be tested whether it will continue to follow the United States and exert maximum pressure on Russia, or strengthen its strategic independence and seek to ease its confrontation with Moscow.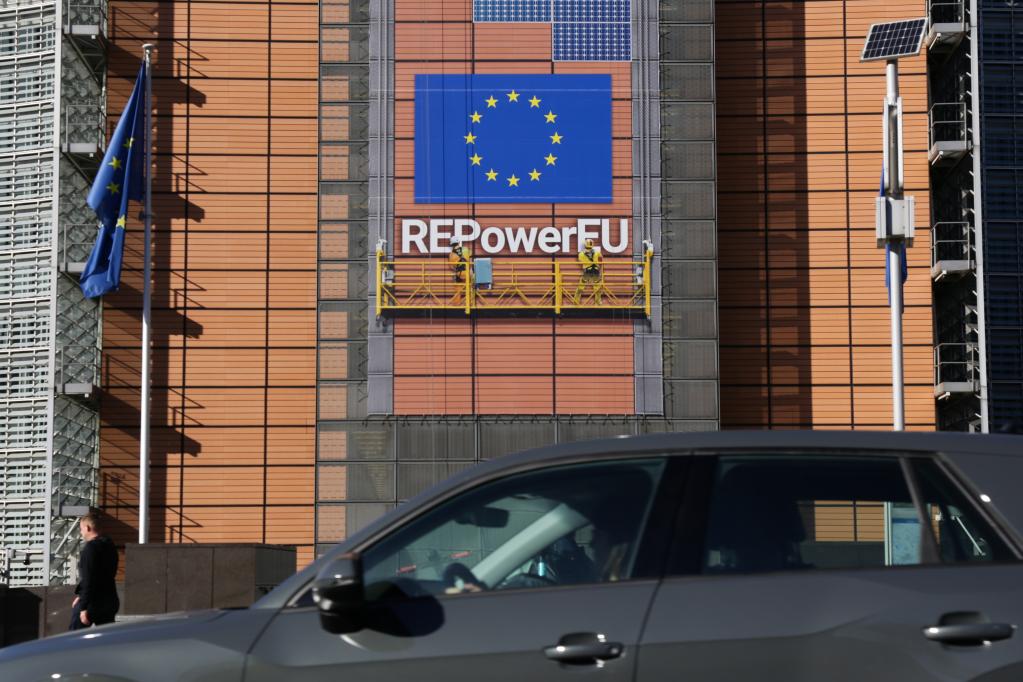 A vehicle passes the building of the European Commission in Brussels, Belgium, Oct. 18, 2022.(Xinhua/Zheng Huansong)
In 2023, Europe's energy crisis remains difficult to be eased. The energy crisis and high inflation will worsen its economic outlook. According to the European Commission, economic activity in the EU, the euro area and most member states is expected to keep contracting in the first quarter of 2023.
Faced with many challenges, how to further promote China-EU relations has become more urgent for European countries in 2023. There is a sound foundation for the growth of China-EU relations: China remains the EU's largest trading partner, while the EU is China's second-largest trading partner. In addition, Chinese and EU leaders are in close communication, showing their willingness to jointly strengthen strategic communication and coordination to boost the China-EU comprehensive strategic partnership.
NORTH AMERICA: GROWING POLITICAL POLARIZATION IN U.S.
As U.S. politicians prepare for the 2024 presidential election in 2023, the partisan wrangling in the United States could be further polarized. Washington's adherence to the Cold War mentality in geopolitics and major-country relations may further disrupt the international order.
Meanwhile, U.S. economic policies could have significant spillover effect on the world economy. There is widespread concern in the international community about the possibility of a recession in the United States.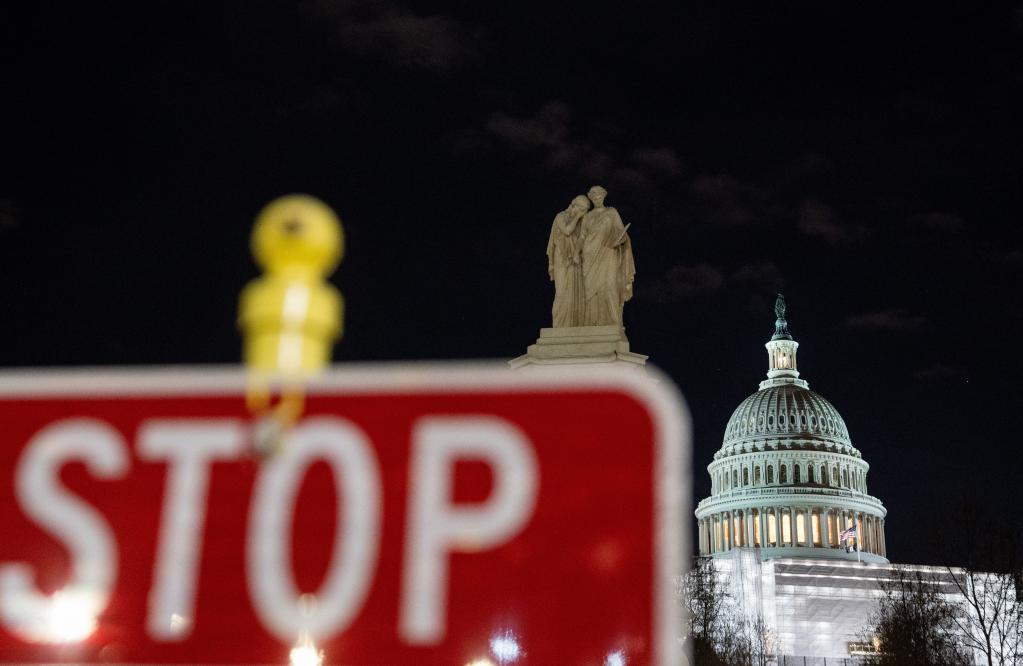 Photo taken on Jan. 3, 2023 shows the U.S. Capitol building in Washington, D.C., the United States.(Xinhua/Liu Jie)
Over the years, the United States has kept saying that it does not seek conflict or a new Cold War but doesn't walk its talk. In the Asia-Pacific, the United States has set up a "quadrilateral mechanism" with Japan, India and Australia, a trilateral security partnership AUKUS with Australia and Britain, and an "Indo-Pacific Economic framework" to "decouple" from China. In Europe, Washington has continuously inflamed the Ukraine crisis, which has not only worsened the security situation in Europe, but also affected international peace and security. If Washington continues to say one thing and do another in 2023, it will create new divisions and further disrupt the international order.
EURASIA: MOVING FORWARD DESPITE UNCERTAINTIES
For countries in the region, the Ukraine crisis will still be the biggest pain point in 2023.
Han Lu, deputy director of the Department for European-Central Asian Studies of the China Institute of International Studies, said the West will not give up the opportunity to suppress and weaken Russia and will do everything possible to continue its proxy war. The geopolitical uncertainty caused by the crisis may further increase.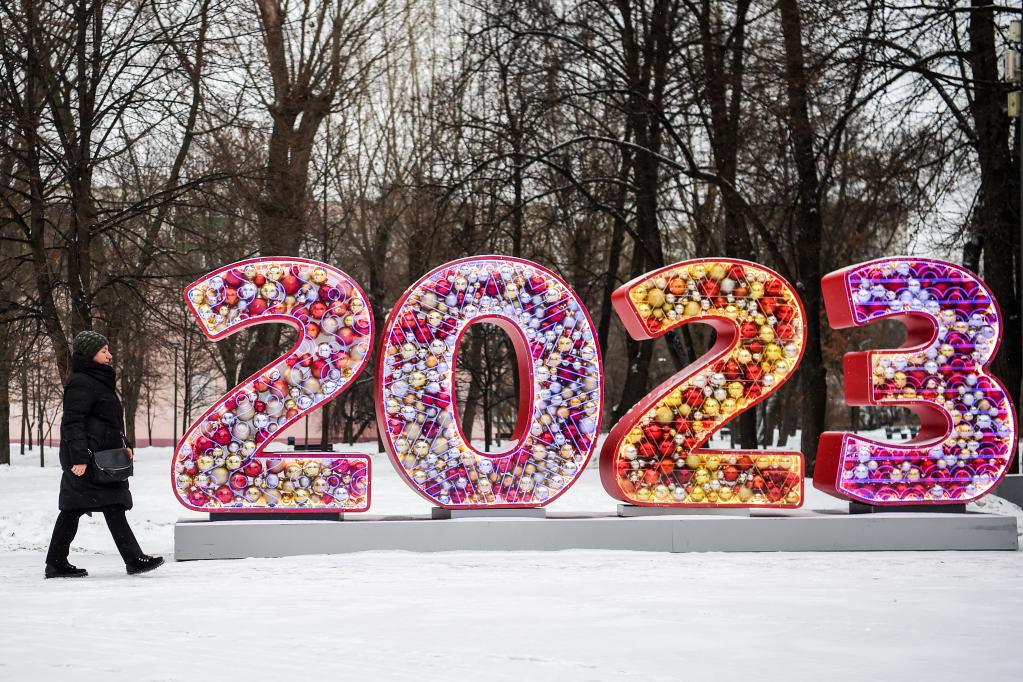 A woman walks past a decoration for the New Year in Moscow, Russia, on Dec. 27, 2022. (Xinhua/Cao Yang)
Nevertheless, regional countries will not stop pursuing political stability, economic development and diplomatic breakthroughs. In the new year, although facing a volatile regional and international environment, they will continue to strengthen cooperation with China.
China-Russia relations, based on non-alignment, non-confrontation and non-targeting of third parties, are rock-solid. China will work with countries in the region to strengthen the high-quality development of the Belt and Road through such projects as the China-Kyrgyzstan-Uzbekistan Railway and the Line D of the Central Asia-China natural gas pipeline.
MIDDLE EAST: MOVING EASTWARD AS REGION STABILIZES
In 2023, the situation in the Middle East is likely to maintain a momentum of "relaxing in general with instability in some parts." Relations among regional countries are expected to keep improving despite uncertainties. In the meantime, Western powers are expected to tighten their grip on the region while speeding up adjusting their Middle East policies.
Tang Zhichao, a scholar at the Institute of West-Asian and African Studies of the Chinese Academy of Social Sciences, said the conciliatory atmosphere in the Middle East is sustainable. In 2023, there is great hope for continued peace and stability in the region. But uncertainties are also lying ahead, including whether there will be a breakthrough in negotiations to resume an implementation of the Iran nuclear deal.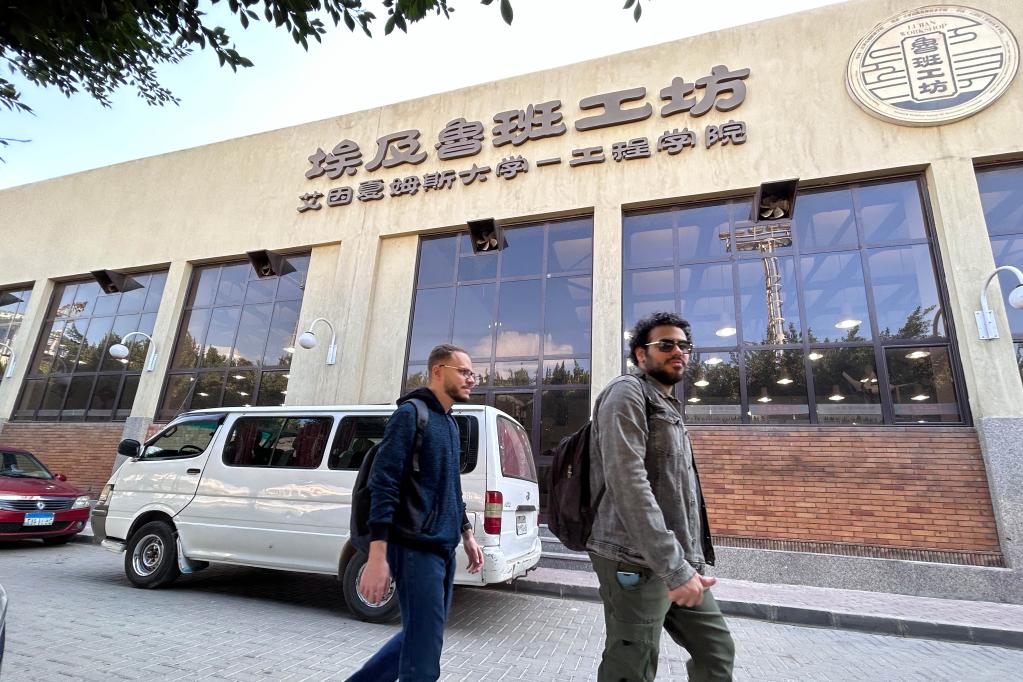 Students walk past the building of Luban Workshop at Ain Shams University in Cairo, Egypt, on Dec. 21, 2022. (Xinhua/Ahmed Gomaa)
With evolving regional political ecology and warming-up of China-Arab relations, the Middle East countries will move faster from "looking eastward" to "heading eastward."
Tian Wenlin, professor at the School of International Relations at Renmin University of China, said amid great changes unseen in a century, Arab countries face historic opportunities to deepen their cooperation with China. It is foreseeable that in 2023, the relations between the Middle East countries and China will be further upgraded.
LATAM: STRONG LEFT-WING COMEBACK RESHAPES POLITICAL LANDSCAPE
In 2022, many populous countries in Latin America, including Brazil, Mexico, and Argentina, have elected leftist governments. In 2023, the main question in Latin American politics is whether the leftists can consolidate their grip on power by strengthening unity and managing divisions.
The challenge for Latin America's economy in 2023 is whether it can respond effectively to external shocks. In 2022, the U.S. Fed's aggressive interest rate hikes had exacerbated Latin American countries' debt burdens, pushing some into debt crises.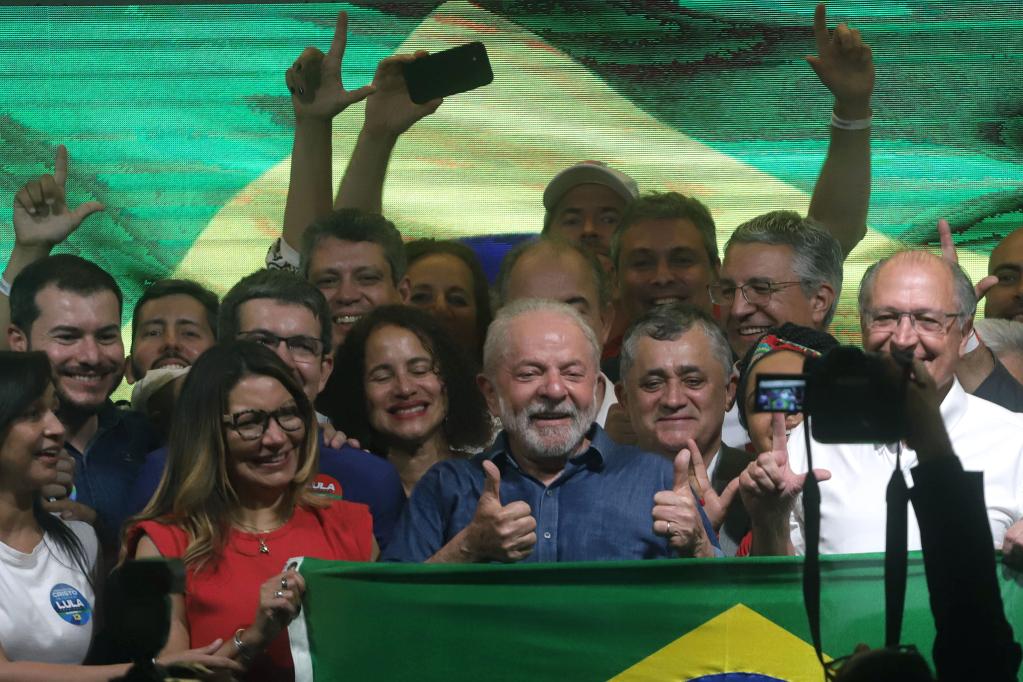 Luiz Inacio Lula da Silva (C, front) attends a celebration event in Sao Paulo, Brazil, on Oct. 30, 2022. (Photo by Rahel Patrasso/Xinhua)
Zhou Mi, deputy director of the Institute of American and Oceanian Study at the Chinese Academy of International Trade and Economic Cooperation affiliated to the Ministry of Commerce, said that in 2023, Latin American countries need to determine policy direction as soon as possible to attract investment, guide industrial transformation, and strengthen regional economic coordination and integration.
In recent years, Latin American integration has stalled. Following election wins, many leftist governments are attaching more importance to regional solidarity and diplomatic independence, injecting new impetus into Latin American integration.
AFRICA: SEEKING STABILITY & DEVELOPMENT
In 2023, African countries will make further efforts to resolve conflicts, improve the security environment and achieve better economic performance. Li Hongfeng, dean of the School of African Studies at Beijing Foreign Studies University, said Africa's own capacity building is the most crucial part in solving the peace and security issues of the continent.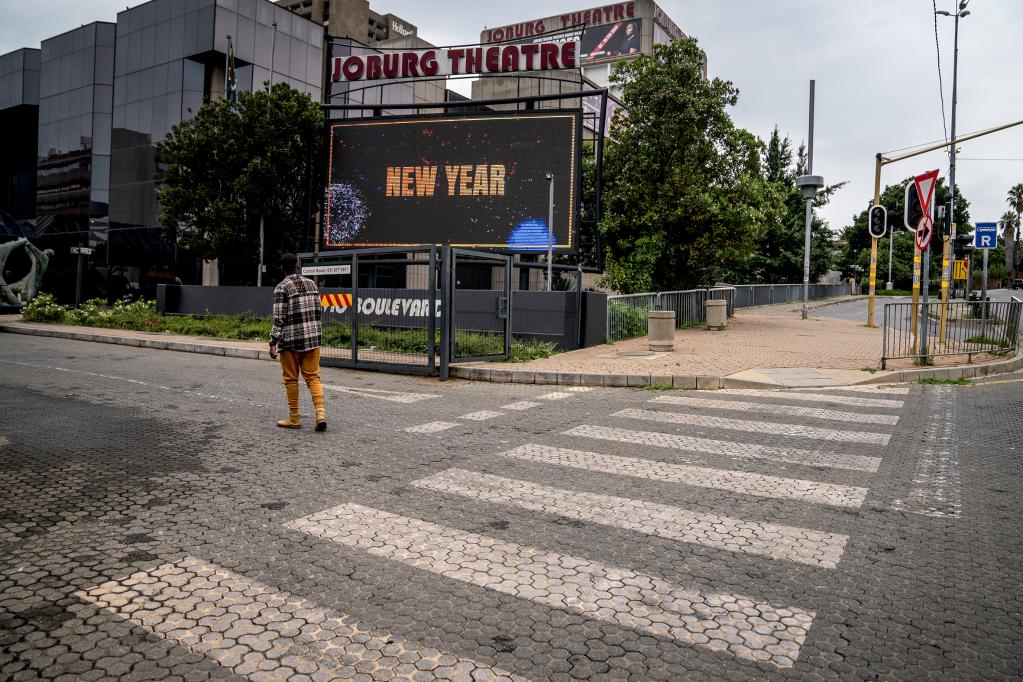 A man walks past an electronic billboard displaying "New Year" outside the Joburg Theatre in Johannesburg, South Africa, Dec. 29, 2022. (Photo by Shiraaz Mohamed/Xinhua)
The African economy is still facing difficulties in the new year, but regional economic recovery is expected to pick up speed in 2023. Digital technology and green economy, among others, are expected to be new growth points for regional economy.
In the new year, African countries will become more active on the international stage thanks to their huge development potential. From the United Nations Security Council reform to climate change and energy supply, Africa as a whole will play a bigger role in international affairs.