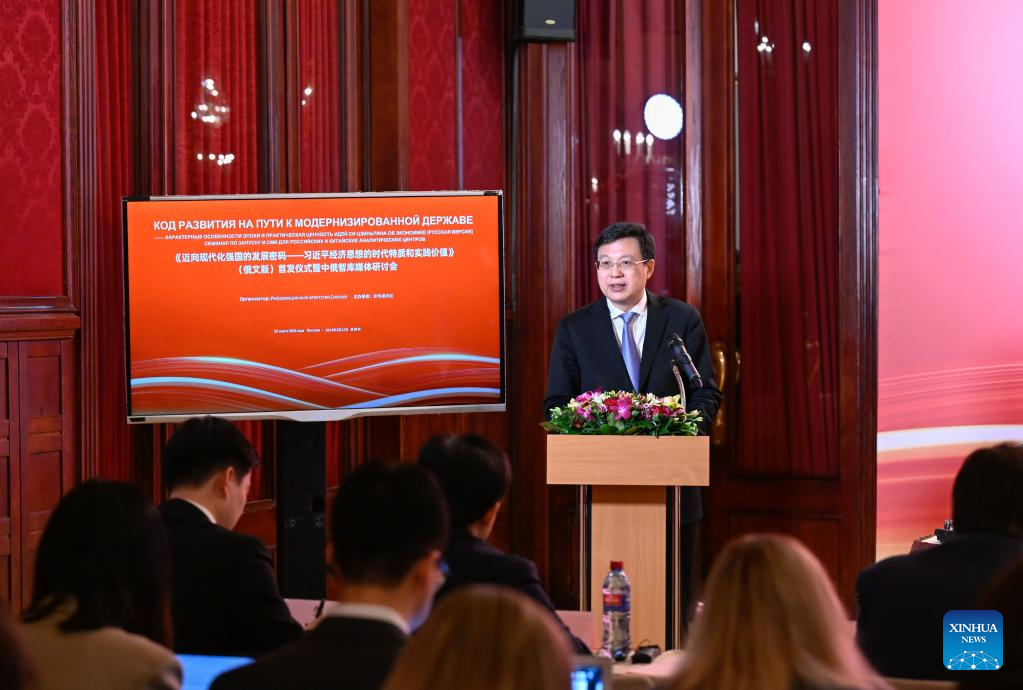 MOSCOW, March 22 (Xinhua) -- New China Research (NCR), the think tank of Xinhua News Agency, released here on Wednesday the Russian version of a report entitled "Toward Modernity: The Value of Xi Jinping's Economic Thought," and held a China-Russia think tank and media seminar to mark the occasion.
Fu Hua, president of China's Xinhua News Agency and director of the Academic Committee of the NCR, said during the seminar that Xinhua, as China's state news agency, an international news agency and one of China's top think tanks, attaches great importance to the study, interpretation and spread of Xi Jinping's economic thought.
Calling the newly-released report one of Xinhua's major achievements in the global spread of Xi Jinping's economic thought, Fu said the report comprehensively expounds on the core meaning, spiritual essence and rich connotations of Xi Jinping's economic thought from philosophical, strategic and tactical dimensions as well as with a global perspective, providing an authoritative interpretation for people to further understand Xi Jinping's economic thought.
Based on China's actual development, rooted in traditional Chinese culture, and answering the questions of the times concerning global development, Xi Jinping's economic thought aims to boost China's development and national rejuvenation, brims with Chinese philosophy and wisdom, and seeks progress for mankind and great harmony for the world, Fu said.
Xinhua will further strengthen the study, interpretation and spread of Xi Jinping's economic thought, and work with its Chinese and Russian counterparts to strengthen exchanges and deepen cooperation to jointly seek long-term development, foster mutually beneficial cooperation, advance people-to-people exchanges, promote greater development of China-Russia relations, and push forward the building of a community with a shared future for mankind, he said.
Andrey Bystritskiy, chairman of the Board of the Foundation for Development and Support of the Valdai Discussion Club, noted that Xi Jinping's economic thought leads the way towards development in an era full of turbulent changes.
It is important to boost coordination, develop together, and jointly contribute to the formation of a more just and equitable world order, Bystritskiy said, adding he hopes that all sides can gain new insights from Xi Jinping's economic thought and move in the right direction.
Ivan Timofeev, director of Programs at the Russian International Affairs Council, said that people from all walks of life in Russia have been closely following the continuous enrichment and development of Xi Jinping's economic thought and the major achievements of Chinese modernization.
Xi Jinping's economic thought has rich Chinese cultural connotations, and its contents such as promoting win-win cooperation and advancing inclusive development are of great significance to today's world, Timofeev said, adding the Russian side is willing to strengthen exchanges and communication with the Chinese side to help deepen China-Russia economic cooperation.
Xi Jinping's economic thought evinces an affinity with the people, has pertinence, and is scientific, practical and open, said TASS First Deputy Chief Editor Marat Abulkhatin.
China will definitely succeed in realizing socialist modernization and the great rejuvenation of the Chinese nation, given the measures and actions the country has taken, he said, adding that TASS will continue to provide a comprehensive coverage of Chinese stories and China-Russia relations.
Held in the Red Hall of the Hotel Metropol Moscow, the seminar was attended by around 100 guests from China and other countries, including media personnel, members of think tanks, experts and representatives of the NCR, who discussed and exchanged views on Xi Jinping's economic thought and on China-Russia economic and social cooperation.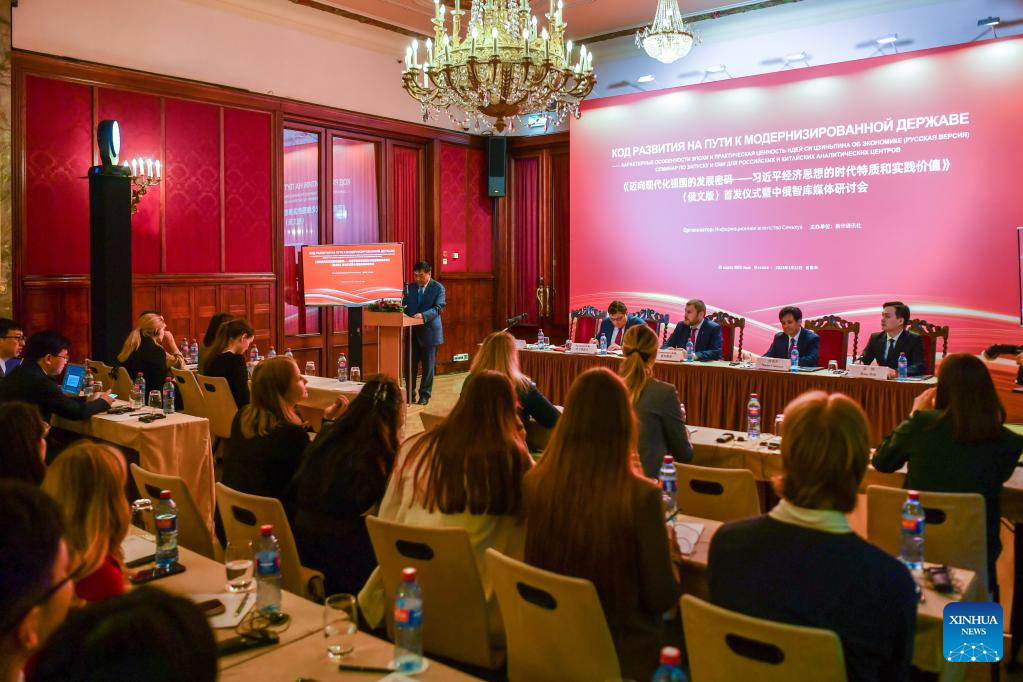 The Chinese and English versions of the report were released by the NCR in Beijing in early March. ■