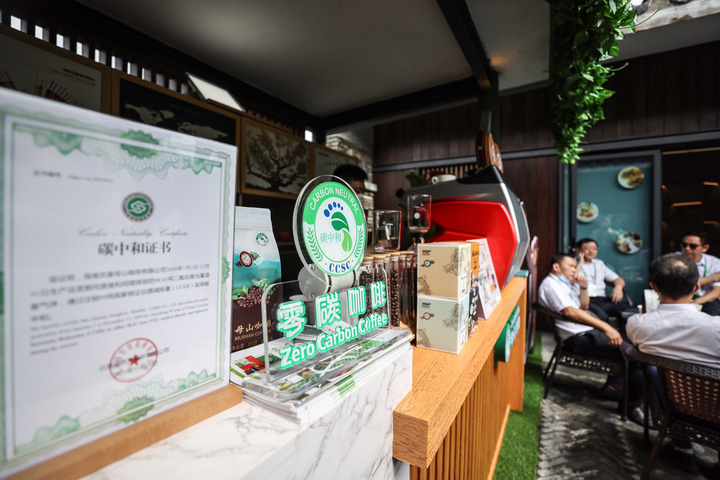 Guests taste zero carbon coffee at a theme park of the Boao Forum for Asia (BFA) in Boao, south China's Hainan Province, April 20, 2022.  (Xinhua/Zhang Liyun)
BOAO, April 21 (Xinhua) -- The International Sustainability Standards Board (ISSB) is estimated to issue disclosure rules on environmental, social and governance (ESG) matters by the end of this year, which may be vital for the future development of Chinese firms, said a CSRC official in a meeting on sustainable ESG at the Boao Forum for Asia (BFA) Annual Conference 2022.
Fang Xinghai, vice chairman of the China Securities Regulatory Commission (CSRC), said that the ISSB is seeking feedback on the proposals and aims to issue the new standards by the end of this year.
Fang noted that the upcoming disclosure rules will have huge impacts on the future development of Chinese firms. By submitting relevant condition of Chinese firms, CSRC, China's top securities regulator, expects that the global disclosure standards will be inclusive, with demands from developing economies considered.
Chinese companies are suggested to attach great importance to ESG disclosures , said Fang, citing reasons that companies with poor ESG disclosures may neither be favored by global investors, nor be listed on overseas bourse.
More than 86 percent of Chinese companies included in the Hushen 300 index, which is composed of firms with large market capitalization and high liquidity, released ESG information in 2020, showing strengthened ESG awareness among industry-leading companies, according to a consultancy.
Countries are scrambling to introduce ESG disclosure rules in recent years. The U.S. Securities and Exchange Commission (SEC) will require ESG disclosures in January 2024, while China is also mulling rules on compulsory ESG disclosures.